Overview
Optoacoustic Material And Structure Sensor (OMASS) is a new bi-modal miniature fingertip-mounted sensor that can detect object material type, surface shape, close-to-surface interior structure without contacting the target.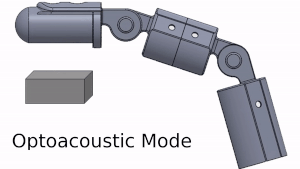 In optoacoustic mode, OMASS utilizes optoacoustic effect to generate laser-induced sound waves and probe material type and structure based on spectrum, time-of-flight, and intensity analyses of the received signal.
In ultrasonic mode, OMASS uses pulse-echo ultrasound signal to sense proximity and material type.
Publications
This research is supported by National Science Foundation.
---